AutomotiveDelight is ad-free website and to pay for our servers we might earn commission from your purchase, however it doesn't impact objectivity of our articles.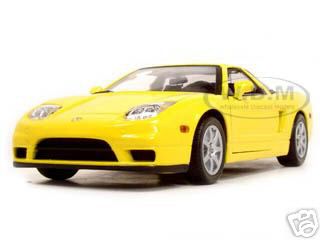 This Acura NSX toy car diecast is made by Motormax. It's facelifted NA2 model that was produced between 2002 and 2005.
2004 Honda NSX diecast toy car is of 1/18 scale and measures 10 inches long, 4.5 inches wide and 3.5 inches tall. It features steerable wheels, rubber tires as well detailed interior, exterior and engine. Doors, hood and front trunk are openable.
Honda NSX is mid-engined sports car with rear wheel drive. It has 3.2 liter V6 engine that develops 286 bhp and 304 Nm. With the curb weight of 1330 kilograms (2932 pounds) it has a power to weight ratio of 215 bhp per tonne.
Ayrton Senna – 3-time Formula 1 champion and often regarded as the greatest racing driver of all time helped to develop Acura NSX.
NSX became famous for being first reliable supercar. When it came out it was just as fast, if not faster, than supercars like Ferrari and Lamborghini yet was very reliable.
It perhaps isn't the most famous car from golden-era of JDM but it's very likely the best.
Fun fact: NSX stands for New Sportscar Experimental.



2004 Honda NSX Specs
| | |
| --- | --- |
| | |
| 0-100 km/h (0-62 mph) | 5.0 seconds |
| 0-100 mph (0-162 km/h) | 11.6 seconds |
| 1/4 mile | 13.4 seconds @ 106.3 mph |
| Top speed | 282 km/h (175 mph) |

Ayrton Senna driving NSX in Suzuka circuit